Welcome to Secret World Thai Massage Newtown
Pamper yourself with deep relaxation to heal and increase your body's wellness
Reduce all your tension from head to toe
Our professional Thai massage therapists will treat you with Traditional Thai healing arts.
Soothing and calming your body and mind
Our massage oils are enriched with high-quality essential oils that provide a myriad of therapeutic benefits.
We open for Remedial Massage by appointment
We are excited to announce that we are beginning to reopen our shop in compliance with the local, state and national regulations. We have worked diligently during the closure of our shop due to COVID-19 to update our already rigorous sanitation and safety standards. We would like to ensure our customers that all our usual health and safety practices are still in place,How ever due to crisis we have expanded these practices to better protect us and our customers.
Watch me get fabulous 2hr package
60-minutes Uspa Skin Care Glowing Facial,cleanse and revitalise with every facial including a relaxing face, neck and shoulder massage 60-minutes body scrub and mud therapy. Rich in vitamins, minerals and antioxidants. Coffee and Sea Kelp increase cellular metabolism and detoxification. $169 per person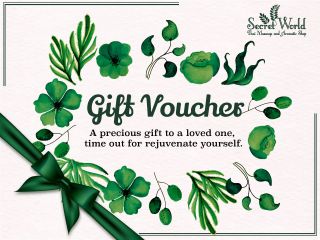 Buy Secret World Gift Voucher Online
Need the perfect gift for someone special? Only the best will do! Give them a Secret World Thai Massage Gift Voucher and let them choose the service they want. They'll love you for it! Buy your Secret World Gift Voucher online and we'll send it to your love one straight away.
Our Feature Services
Our Secret World Thai Massage comes in hand with professional massage and a relaxing atmosphere
Customer Care
Money back guarantee if you not happy with our treatment.Let our friendly staff know if you not happy with our treatment within first 10mins.
Private Treatment Rooms
At Secret World Thai Massage you will enjoy our private, nice, cozy treatment room. We also have a couples room for you and your loved one to enjoy total relax time together.
Qualified Male & Female Therapists
We have male and female Thai massage therapists available by appointment. Please let us know in advance if you prefer male or female therapist.
Health Fund Rebates
An assessment is carried out prior to the remedial Thai massage on the focus areas and your therapist will advise on a treatment plan along with expected results.
USPA | Natural Skincare
At Secret World Thai Massage we use USPA product in our massage and facial treatment as USPA had over 20 years experience in the spa and skin care industry.
Treatments Single & Couple Treatment Room
We offer five spacious and quiet treatment rooms for your privacy and relaxing massage, Couples room for you and your loved one. Group massages are welcome by appointment.
Our Story
Secret World Thai Massage Therapy Newtown
Enter the Secret World Thai Massage Newtown of relaxation or just spoil yourself by a professionally trained therapist in the comfort of our newly renovated premises near the station in the centre of Newtown.
More about us
Secret World Atmosphere
Spoil yourself with our Thai massages in our relaxing atmosphere.
Customer Reviews
What 100% real people say about Secret World Thai Massage Newtown
Finally I've found my favourite massage place! I've been to Secret World Thai Massage several times now, and have never been disappointed. The staff are super lovely, and are the massages are always fantastic and relaxing :)
Received a couples massage with my partner here. Was able to park right out front (we went in the early afternoon on a weekday). The staff were friendly and polite, easy to communicate with. Massage was one of the best we've had (and we've gone to a lot!). We had Oam and Ningning. Best part of the massage was legs, behind the shoulder blade, and neck. Stiffness was almost completely resolved after the 45 minutes. Cost is on the pricier end, but worth it if you don't need regular treatments. Only recommendation- on colder days, to possibly put up the heater as it got a little bit cool :)
This is the best place for a massage! I come here regularly and now it's my favourite spot. The staff are super lovely and I always walk away having had a great experience.
Everyone here are so lovely! I've been visiting the Secret World Team for over a year. Guaranteed a great and relaxing massage everytime. I don't know why anyone would go anywhere else in the Newtown area. As always it's a pleasure.
Have been coming here for years and always had great service and brilliant massages. Emma and her team are always caring and polite. A bonus is the accept health fund rebates. Highly recommend.
One of the best massages Ive had in a long time. Expect your normal thai massage experience but even better. Have never found a massage that was firm enough and now I have.
I came on a Saturday evening and had a Thai relaxing oil massage for an hour. The premises were clean and the staff very polite. I arrived 10 mins early but I didn't have to wait and my massage started straight away. My therapist was Vanda and she was very good applying good pressure and paying attention to the areas I was more stiff. I was offered delicious beal fruit tea in the end. Excellent experience. Highly recommended!
Truly the best Thai massage outside of Thailand. Friendly customer service. Really strong massage. If you like deep tissue/Thai style massage this is the place. Long time regular.
I thoroughly recommend the 1 hour deep tissue massage - I have had over 2 dozen massages from all the different therapists and they are consistently great. They often do seasonal specials which are great value - ask for a loyalty card if you're living in the area. Thanks Secret World!
Super friendly staff and lovely decor. Made me feel really welcome. I am a connoisseur of a good massage believing that one a fortnight is they key to happiness. I will be back here!
Sensational massage therapy. I have a deep tissue massage when needed. All therapists are excellent - strong and well trained as they seem to get the required spots!
You never know what the quality of a massage parlour will be from the outside—it's always a leap of faith. I am so happy I decided to pop into Blue Sky for the Early Bird special, as I haven't had a massage this INCREDIBLE since I've been in Thailand. The therapist (Yaya) could tell straight away that I'd been doing some hard yakka for the past four months, and so went to town on my back muscles. I feel like a new man now. She was considerate and checked in with me at every step of the way, making sure it wasn't too mush pressure. All I can say, is that I'll be back as much as I can. Can't recommend this place enough! Do yourself a favour. It's so worth it!